Ga naar Gerards page / go to Gerards other pages ---->>>

Setton RS-440



Wegens teveel spullen is deze verkocht / due to having too much stuff, this nice Setton was sold.

De Setton RS-440 schijnt technisch hetzelfde te zijn als de Lafayette LR-5555A. Het is dus een "OEM apparaat".
De printplaten zijn gefabriceerd door Elna.
De naam Setton is van de importeur die het merk initieerde, hij had een Franse mode designer ingehuurd voor het ontwerp van het cosmetische deel.
Deze Setton was eerder gerepareerd met een S40W 40 watt eindversterker module (misschien uit een RS-220), in plaats van de originele S60W, die benodigd is voor het vereiste vermogen.
Beide versterkerkanalen waren inmiddels defect. De modules S-60W zijn niet meer verkrijgbaar, behalve misschien als Chinese namaak.
In de plaats hiervan is een schakeling met darlington transistoren gekomen. Een bias sensing transistor is gemonteerd en een printje met o.a. een 20-slagen potentiometer voor de bias afregeling. Een en ander uiteraard voor elk kanaal.
Verder is het luidsprekerrelais vervangen de elco's op het versterkerboard, en zijn er gematchte input transistoren geplaatst.

This Setton RS-440 receiver is a Japanese OEM amplifier identical to the Lafayette LR-5555A, using Elna printed circuit boards.
The brand name comes from the French importer of Pioneer products, who apparently hired a Pierre Cardin fashion designer to design the Setton look.
It suffered from a less successful repair, even employing an underrated 40 Watts S-40W amplifier module, probably originating from a Setton RS-220.
Unable to get replacement parts, I decided to make a discrete solution made up of 2 pairs of darlington transistors and some accompanying parts for bias adjustment/compensation.
Also the loudspeaker relay was exchanged as it was bad, the input transistors were replaced by matched pairs and all small electrolytics on the main amp pcb were exchanged.
The Sanken S-60W is supposed to be the same as RH-IX1066AF and ECG 1354 according this post on the DIYaudio forum.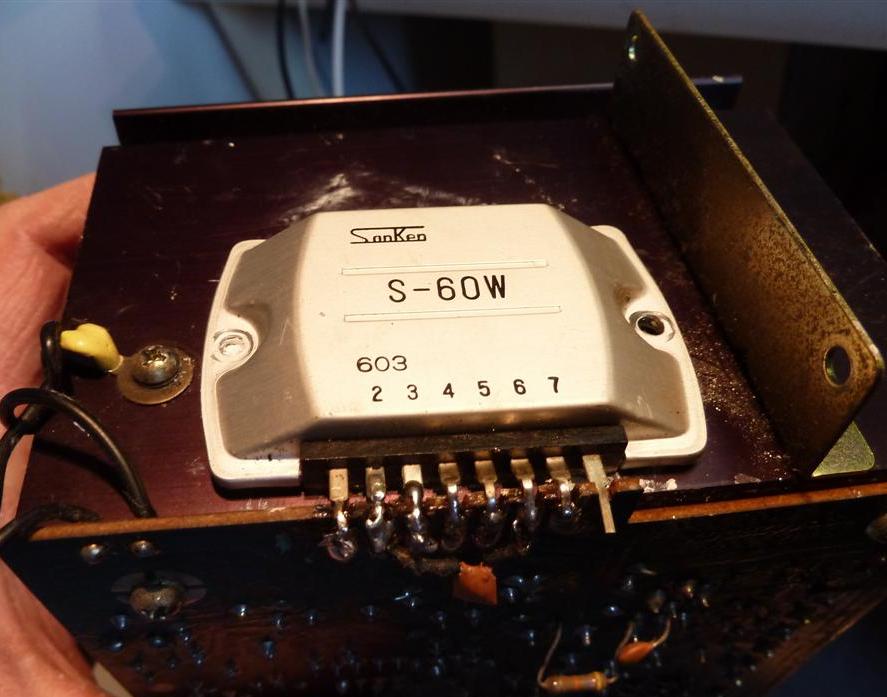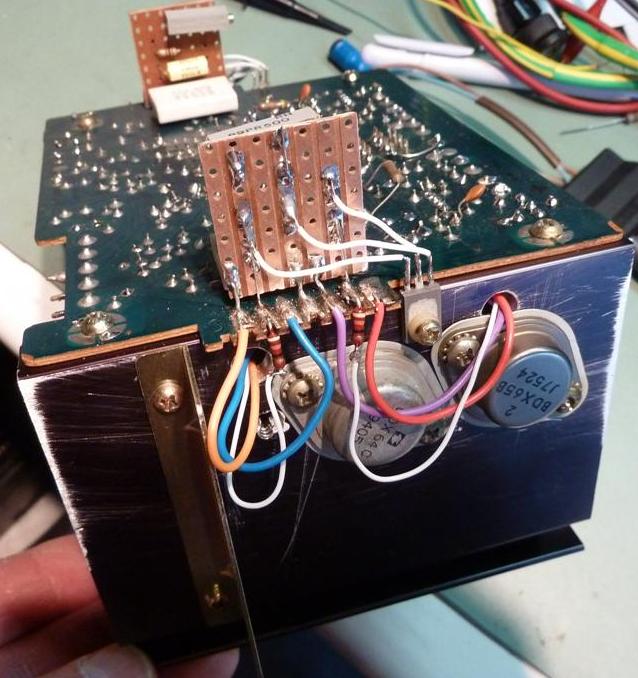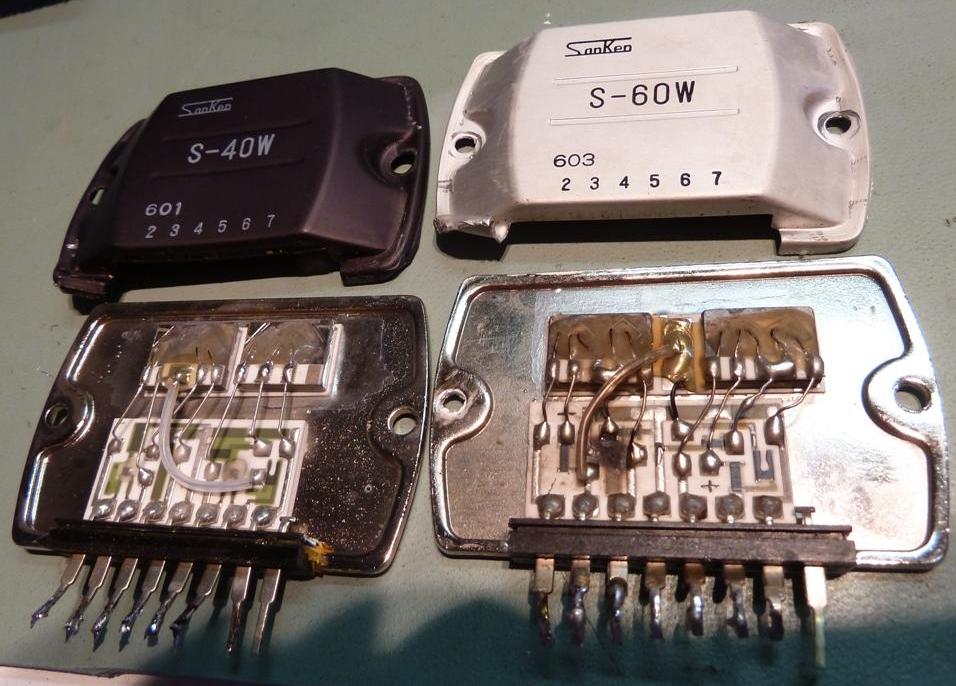 My second Setton was missing the rackhandles. It was bought at the same time as the original owner did give up on them, it had defective channels also.

It did get the same treatment but quick and dirty, using Japanese Sanken plastic transistors, which are easily capable enough although the BDX transistors are more rugged. This Setton was sold "for peanuts" as it was incomplete, to somebody not caring about these handles.

Still, these rack handles definately define its looks!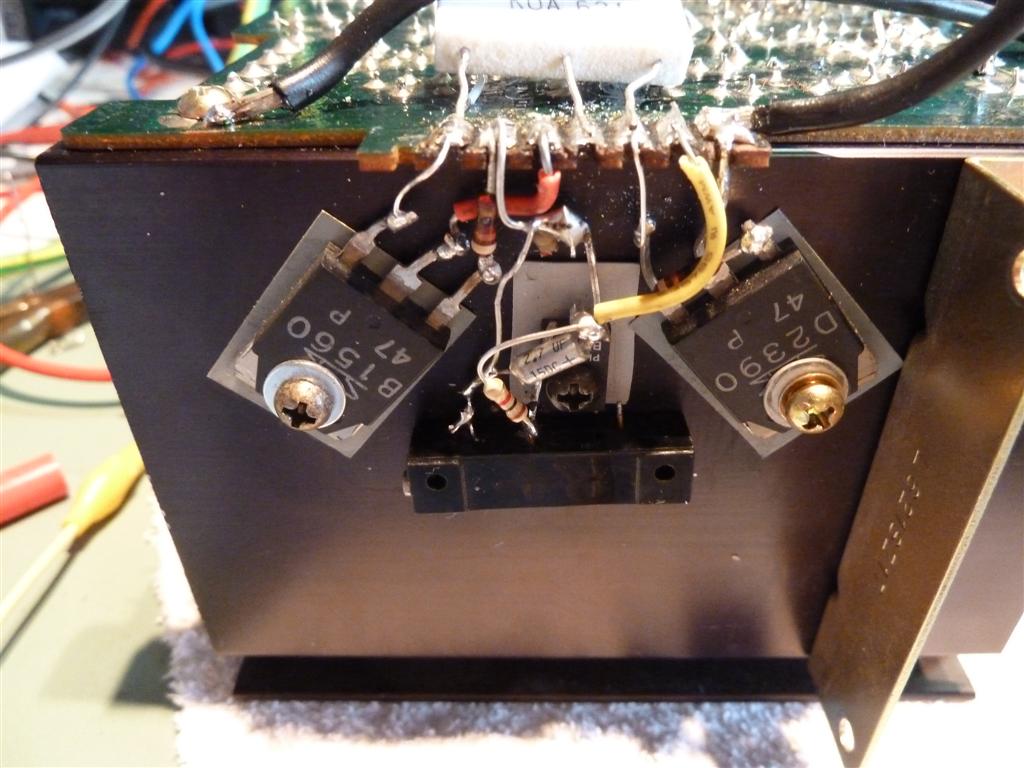 Ga naar Gerards page / go to Gerards other pages ---->>>