Ga naar Gerards page / go to Gerards other pages ---->>>


Luxman SQ507X



De SQ507X heeft last van slechte bias dioden wegens ouderdom en ook wordt de ruststroom hoger bij hogere temperatuur.
Dit wordt m.i. deels veroorzaakt door een ontwerpfout: de dioden zitten niet thermisch verbonden met de koelplaat. Hun gedrag wordt grotendeels bepaald door de eigen opwarming.
Onder andere de nulinstellingsschakeling en de bias schakeling zijn aangepast.
Verder zijn de eindversterkers opnieuw bestukt met geschikte transistoren en is de voeding verzwaard, zodat de voltage selector niet van 220V naar 240 volt hoeft en er geprofiteerd kan worden van enkele watts meer piekvermogen.

This Luxman SQ-507X is modified for a less sensitive null adjusting and good thermal behaviour, and it has more rigid power/main amp circuitry now.
Originally, bias compensation is done through the green sv3 diode, but as it is not mounted to the heat sink, it mostly reacts on warming-up by its own current.
Having the replacement transistors mounted, while the amplifier module was heating itself up using a dummy-load to over 55 degrees celcius, bias appeared to be raising too much, having the original diode solution employed.

All aluminium electrolytics are replaced, sometimes using metal-can tantalums of good quality (yes the tantalum audio usage discussion is known). The small tantalums were measured using a huntron tracker as well as a LCR meter to make sure they are okay.
The main smoothing capacitors are 15000uF now, and some 25 years less old than the ones coming out.
The main amplifiers are completely rebuilt using quality components.
The voltage selector is NOT moved from 220V to 240V, so a few more watts peak power can be enjoyed (Mains power is 230 volts in NL ).

old amp, refurbished amp, old preamp/power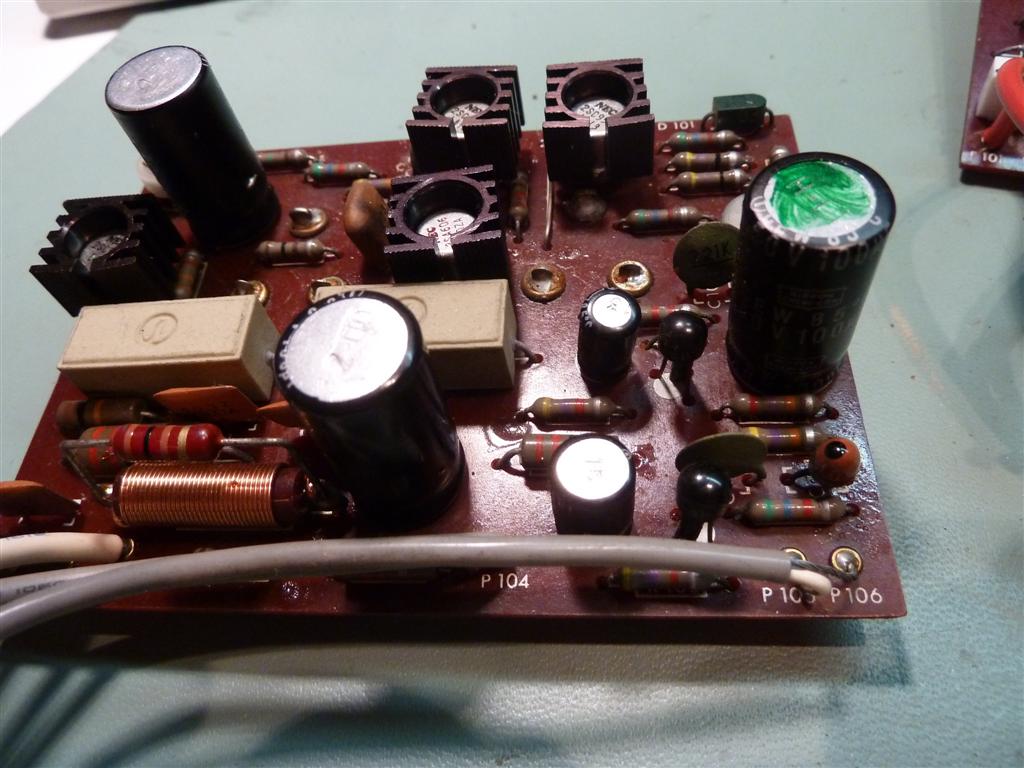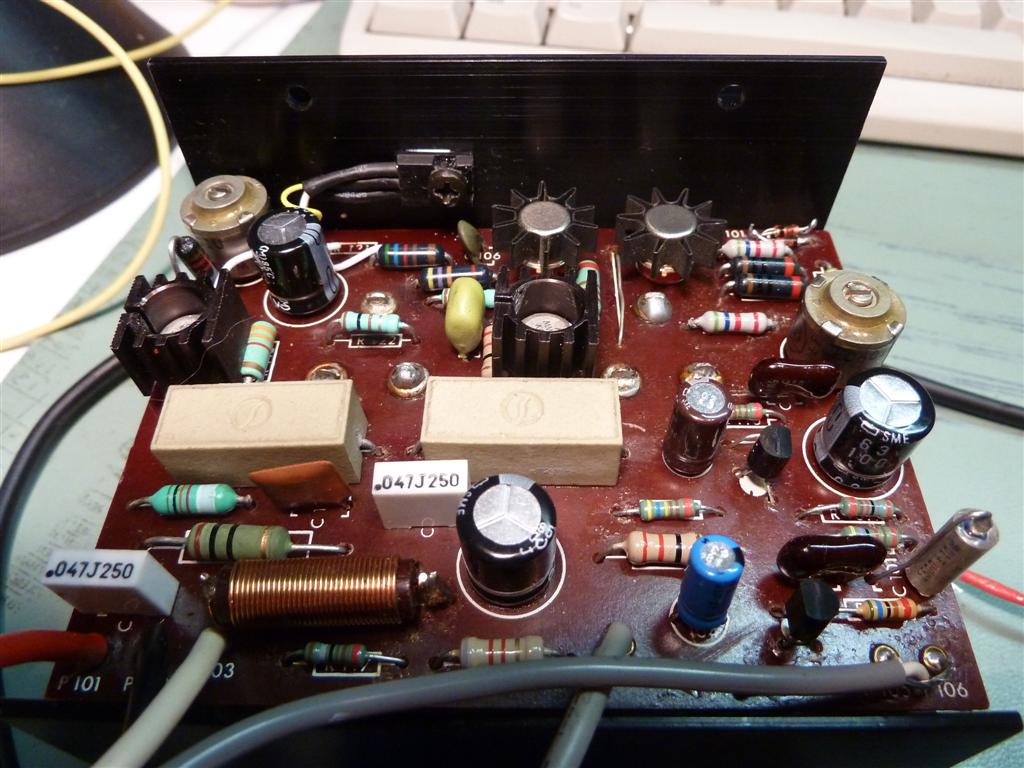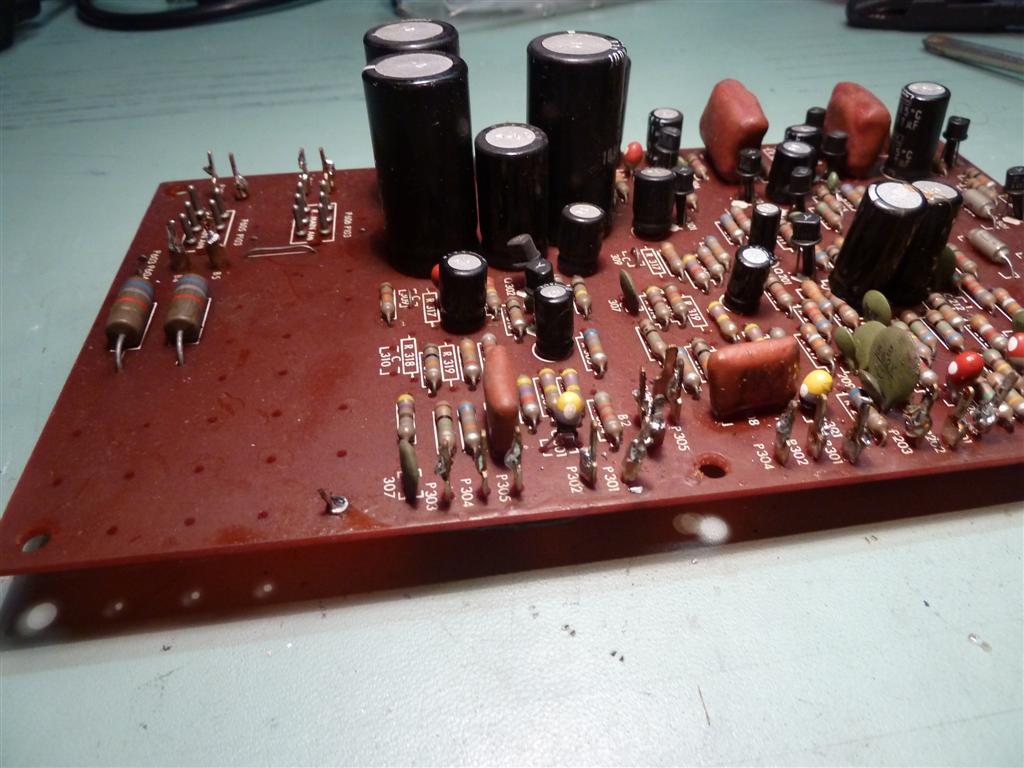 refurbished preamp/power boards metal/glass case tantalum capacitors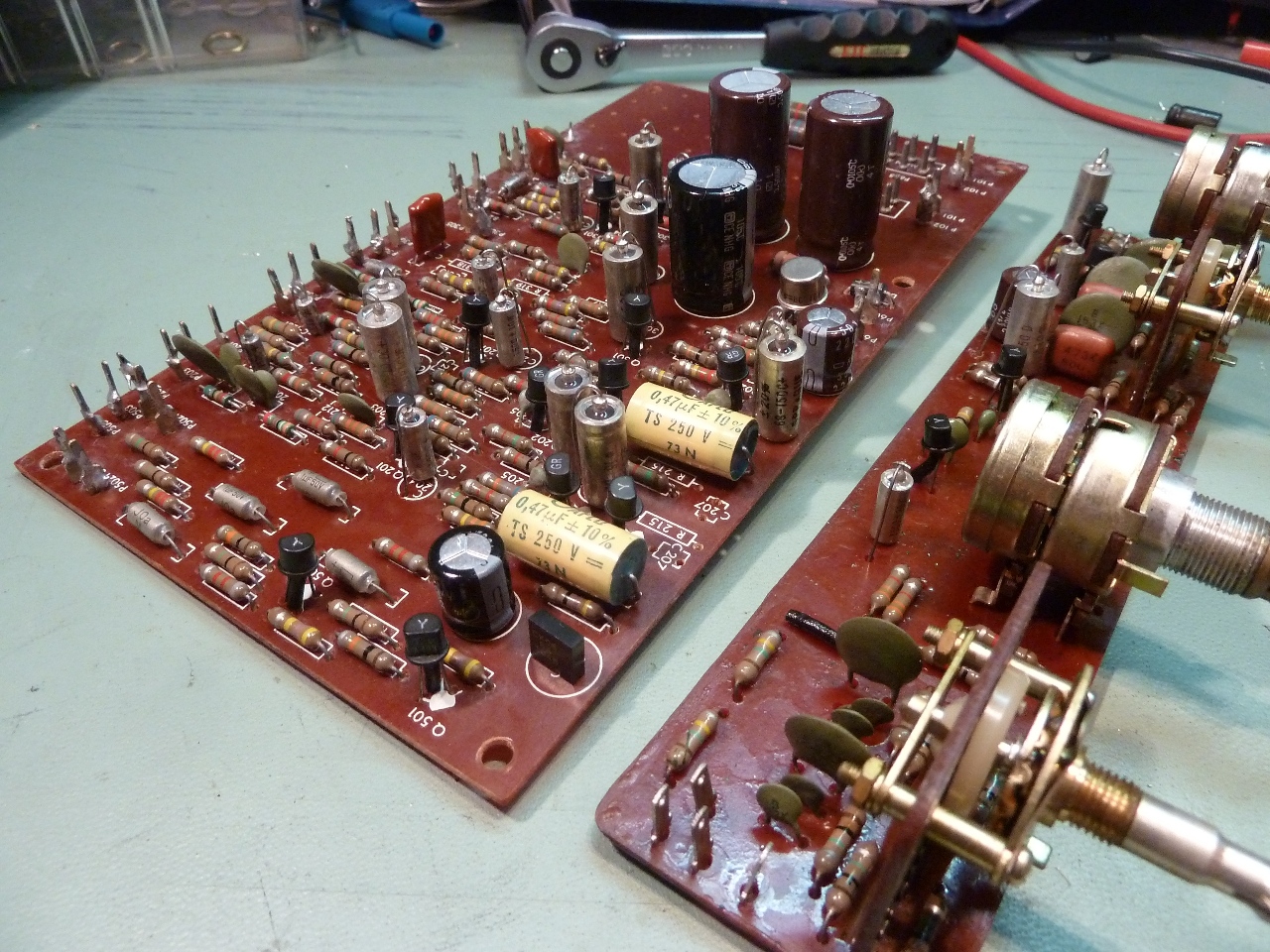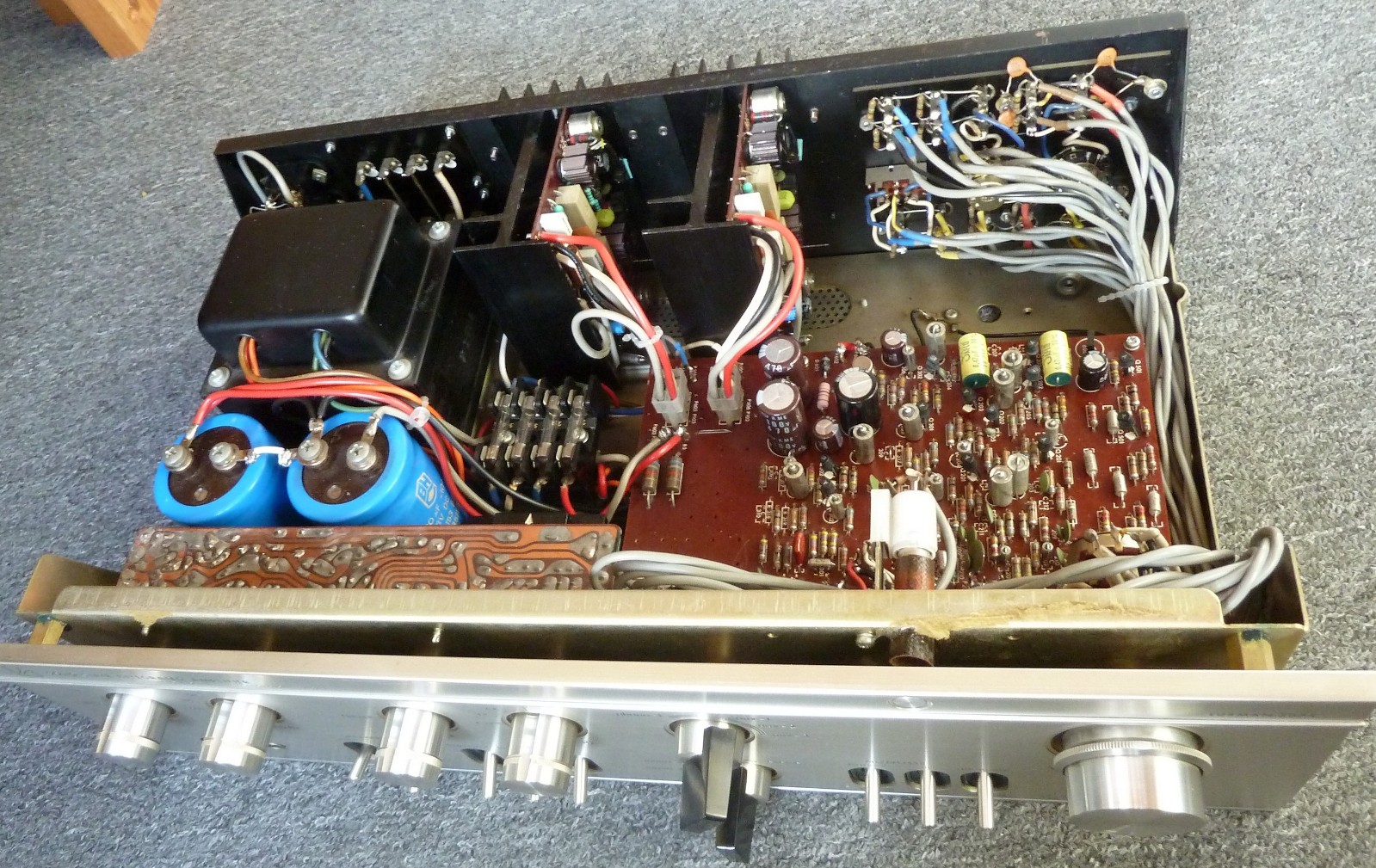 Aangepast schema Luxman SQ507X / modified schematic. Changes were written on a schematic, belonging to a SQ505X .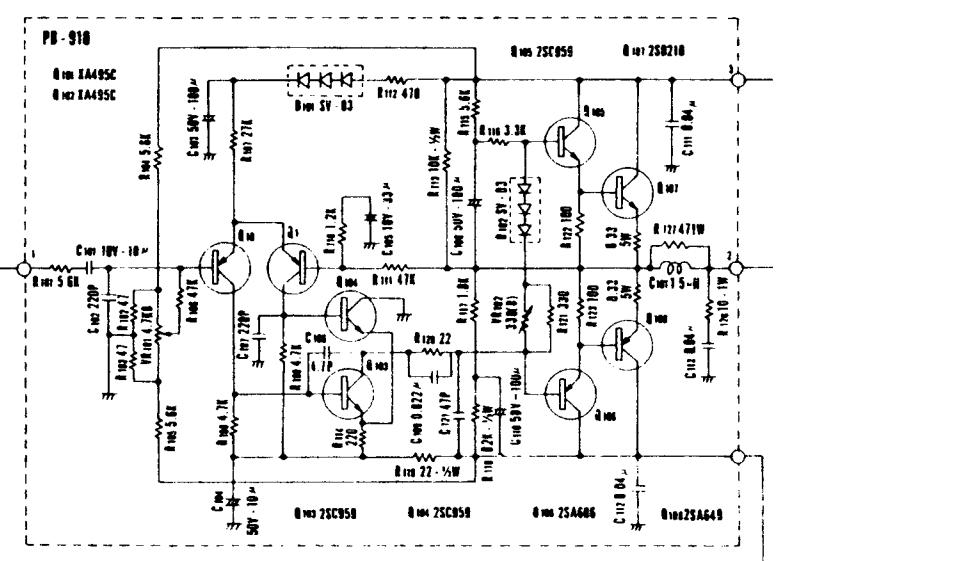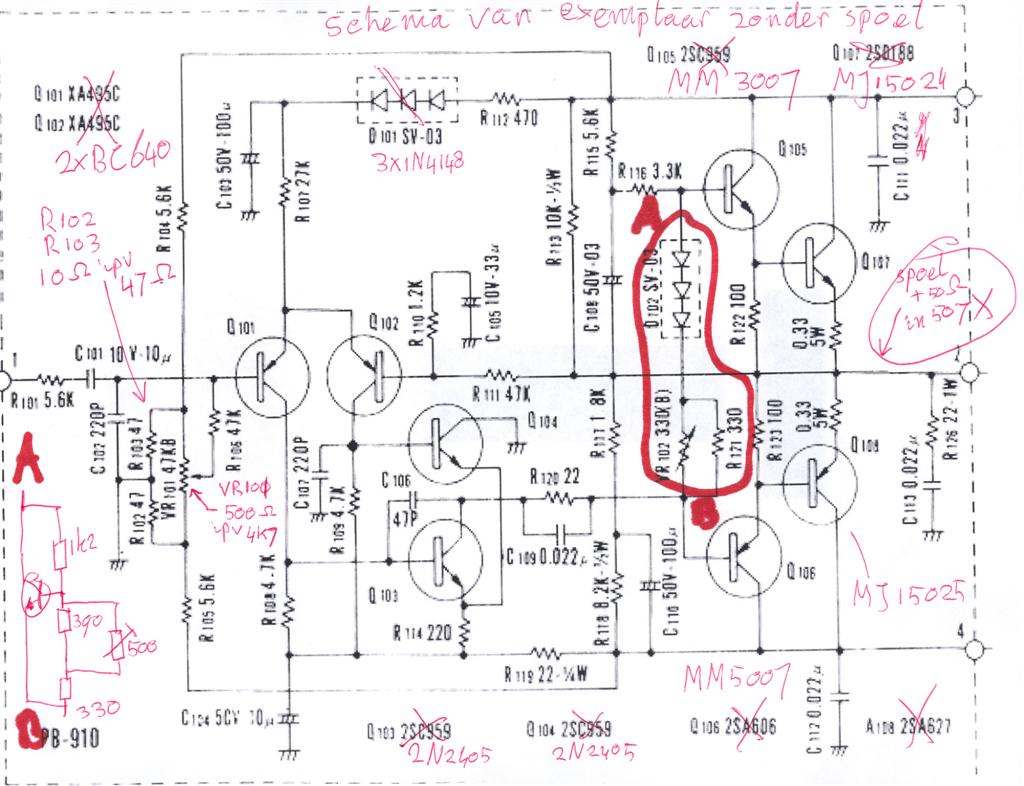 Ga naar Gerards page / go to Gerards other pages ---->>>